Munich – one city, endless facets
The bavarian capital with its roughly 1.5 million residents has already become a metropolis. Still, the living is easy and safe. That is what makes Munich so endearing.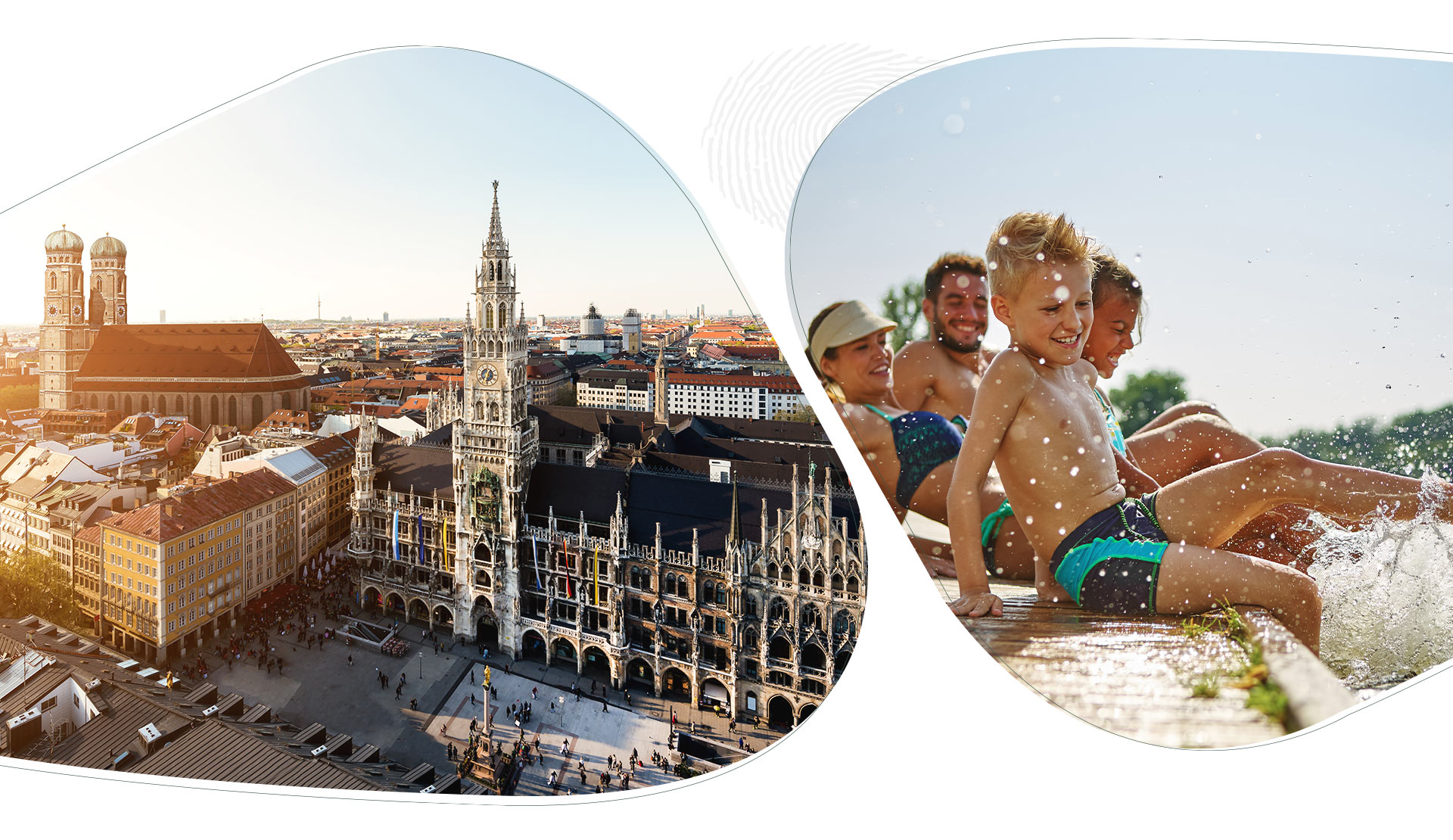 Tradition meets cosmopolitanism
Munich is the city where extremes meet in many ways. Next to multiple beer gardens where you encounter the typical bavarian lifestyle, you find Michelin-starred restaurants with a touch of extravagance. The inhabitants of Munich are aware of their tradition and still so modern and open-minded. This is where you feel at home!
Exklusiveness meets creativity
Shopping, art or culture: Munich has many different faces. Whether you like it exclusive, modern or creative, you will find it here. In the different neighbourhoods you can explore all the different faces of Munich. An exciting shopping day, sightseeing downtown or relaxing in the countryside, Munich has it all. Even the highest claims are fulfilled in the bavarian capital – some are even topped. See for yourself!
Walking, cycling or taking the train – Munich has short distances. If you prefer taking the car you still get from A to B with ease. Different from other big cities, Munich is known as the "city of short distances". Enjoy the many different facets of the bavarian capital and fall in love with your new home in no time!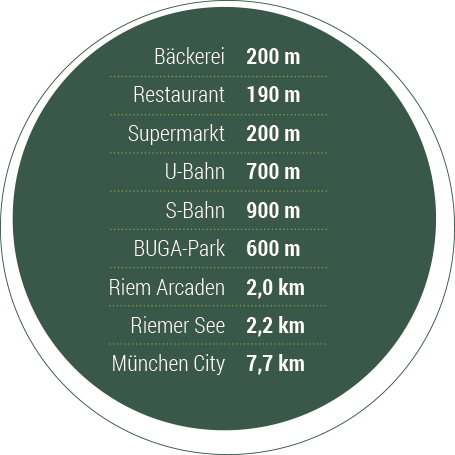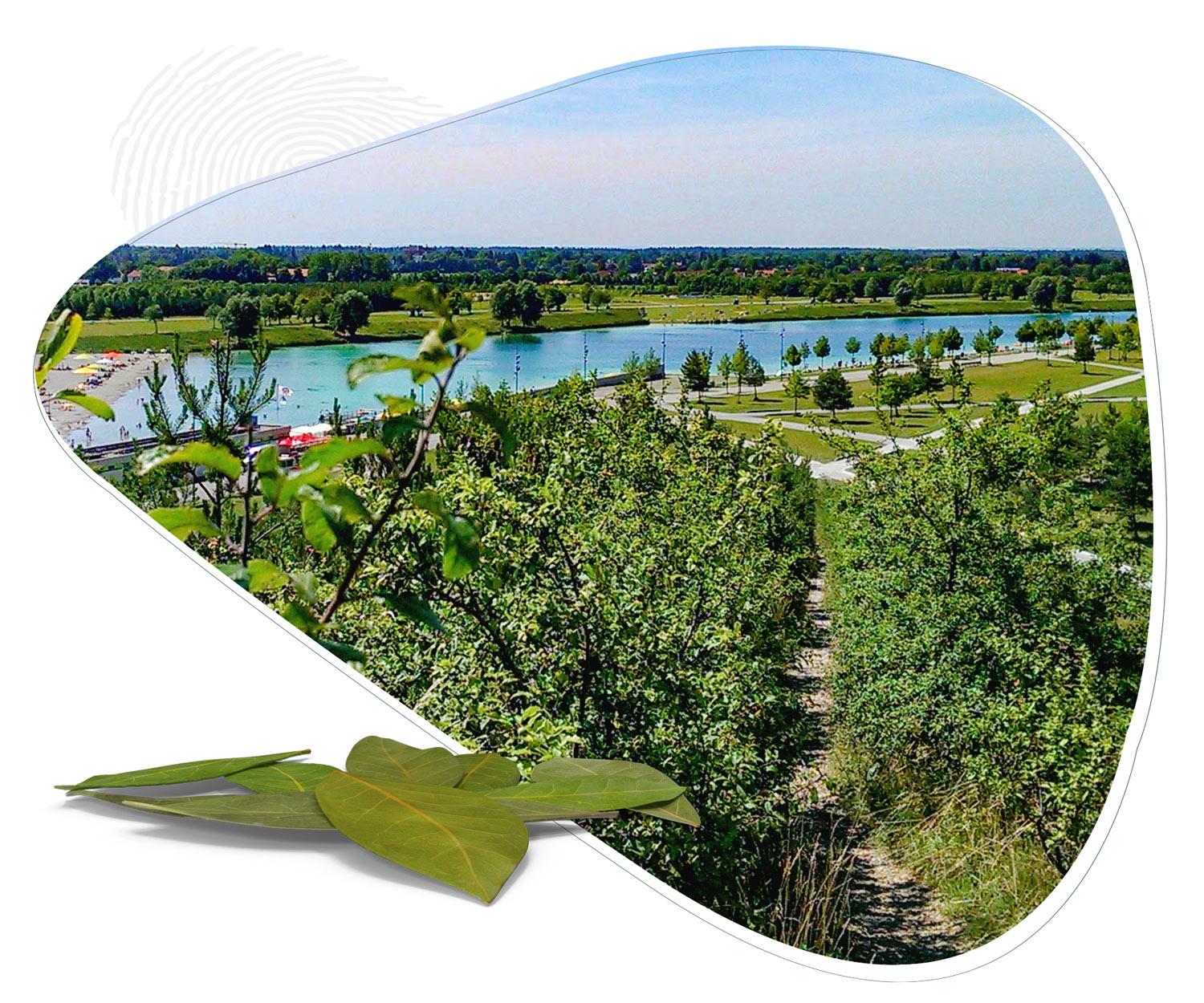 Located in the east of Munich, the district Trudering-Riem enjoys urban flair mixed with rural beams. Welcome home!
Rural flair with great infrastructure
Characterized by isolated farmhouses from the early days of the district, you will mainly find spacious one- and two-family homes mixed with smaller residential complexes for families. The rural structures were kept alive, and yet urbanity made it to Trudering.
Divided into 9 districts, Trudering is criss-crossed by small and large green spaces and surrounded by the Truderinger Wald recreational area. As far as the eye can see, you will find opportunities to be outdoors and enjoy nature.
The district is ideally located with two motorway slip roads for the A99 and A94 as well as its own access to the Mittlerer Ring. The regular travel times of S- and U-Bahn lines also allow a maximum of flexibility and a good connection to Munich city centre. Several bus lines operate within the individual Trudering-Riems districts and the "Am Moosfeld" industrial park is easily accessible.
Education, culture and tradition
The lively and tradition-conscious club life still testifies to the village-like origin of Trudering. In clubs such as the volunteer fire brigade, traditional costume club, bowling club, etc., the residents show their voluntary commitment.
From small retailers to large discount supermarkets, Trudering also offers numerous shopping opportunities. These are well connected and easily accessible on foot. Trudering is considered an idyllic and safe district in which it is particularly good to live.
Kirchtruderinger Str. 8
Unique apartments with exclusive furnishings
The highlights at a glance:
Modern and elegant architectural style
Quality controlling during construction by TÜV SÜD
Installation of high-quality brand quality
Solid brick construction according to the latest energy standards
Environmentally friendly, state-of-the-art groundwater heat pump and gas Condensing heating
Passenger lift on all floors
Video intercom
Elegant floor coverings, oak parquet in different finishes in all rooms or of your own choice*
Exclusive tiles freely selectable*
High-quality windows and balcony doors in plastic with triple glazing
Electric shutters
High-quality sanitary equipment from brand manufacturers
Underfloor heating with individual room control on all floors, including the basement
Sanitary pipes in stainless steel
Decentralized living space ventilation
Commission-free sales
* within the framework of the guide prices per m² specified in the building specification.